1 - BASIC PC TIPS
This is the Support section for our PC titles. If you are having issues with the PlayStation® versions of our games, please go to the Help & Support page of PlayStation®.
If you encounter issues when running your game, there are a few things you can check to solve your problem. The following steps usually help fixing most issues players encounter.
1. Does your system meet the specifications required for the game?
Please verify the game's system requirements and compare them to your system's specifications. If your system does not meet the requirements, this will most likely be the cause for any performance issue or crash that you may be experiencing.
2. Try to run the game with administrator rights
-Right click on the game icon on your desktop or dedicated folder
-Select "Run as administrator"
3. Update your video card drivers
Make sure the drivers of your graphics card are up to date. They can be downloaded from the manufacturer's website:
4. Verify your game files from the Epic Games Store
Make sure that your game files have been properly downloaded and installed from the Epic Games Store by following the steps described on the Epic Games Store Support Center.
5. Disable background applications
Before launching the game, make sure no other software is running (web browser, chat software, music player, etc).
6. Make sure your operating system is up to date
Check for Windows updates and install all pending items. You can find out all details in this OFFICIAL MICROSOFT ARTICLE.
2 - I HAVE AN ERROR CODE WHEN DOWNLOADING OR LAUNCHING THE GAME FROM THE EPIC GAMES LAUNCHER
If you are receiving an error message while trying to download or launch the game, please reach out to Epic Customer Support or visit this page to find out more about your issue.
3 - MY GAME CANNOT RUN: HAVE YOU CHECKED THAT YOUR PC IS MEETING MINIMUM SPECIFICATIONS?
MINIMUM SPEC:
• OS: Windows 10 (64 bit)
• Processor: Intel Core i5-2300 @ 2.8 GHz or Ryzen 3 1200 @ 3.1 GHz or AMD FX-8350 @ 4.2 GHz
• Memory: 8GB RAM
• Video: Nvidia GeForce GTX 780 or AMD Radeon HD 7950 (Support of Vulkan 1.1 required)
• Video RAM: 3GB or more
• Hard Disk: 55GB
RECOMMENDED SPEC:
• OS: Windows 10 (64 bit)
• Processor: i5-6600 @ 3.3GHz or Ryzen 3 1300X @ 3.4 GHz
• Memory: 12GB RAM
• Video: Nvidia GeForce GTX 1060 or AMD Radeon RX 580 (Support of Vulkan 1.1 required)
• Video RAM: 4GB or more
• Hard Disk: 55GB
4 - MY GAME CANNOT RUN AND I GET AN ERROR MESSAGE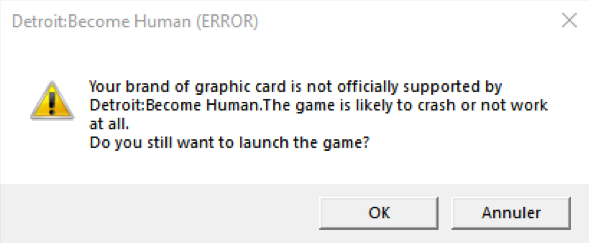 Detroit: Become Human PC does not support Intel GPUs (they are below the minimum specifications).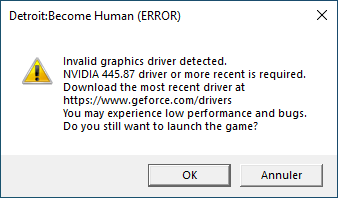 This error message displays when a newer version of the drivers is required to play Detroit: Become Human. You can download them on the Nvidia or AMD websites, depending on your manufacturer:
https://www.nvidia.com/download/driverResults.aspx/159884/
https://www.amd.com/en/support
5 - MY GAME CRASHES AND I GET AN ERROR MESSAGE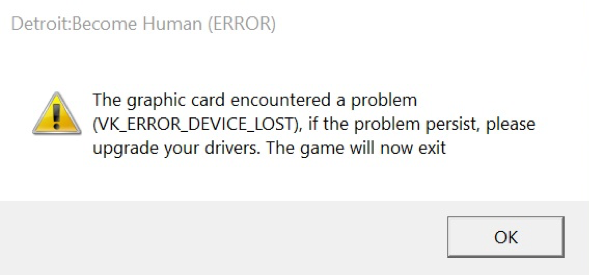 If this error message is displayed, it means that the game has encountered an unexpected error, resulting in a crash. After pressing OK, and having quit the game, you should be able to launch the game again without issues. If it is not the case, please contact us.
6 - I HAVE RECENTLY CHANGED MY AMD GPU AND MY GAME IS UNSTABLE OR SLOW EVER SINCE (AMD GPU ONLY):
If you have recently changed your AMD GPU and your game has become unstable or slow, please delete the VkPipelineCache.bak and VkPipelineCache.bin files located in the "ShaderCache" folder of your game installation folder, then relaunch the game.
7 - I AM UNABLE TO LAUNCH THE GAME AND I GET NO ERROR MESSAGE
In this case, please try disabling any software that could communicate with the game, thus preventing it from launching properly, as this is the most common cause for this issue. This includes, for example:
Screen recording software

Post-processing software

Performance monitoring software