Just over 25 years ago, we were trying to find a name for the development studio we dreamed of creating with the small band of developers who had the courage (or recklessness) to join me on this adventure. Choosing a name for a company is always tricky, and it's never easy to find the word or words to define an identity that doesn't yet exist, to define who we'd like to be, who we'd like to become...
"Quantic" came from quantum physics (it's called "quantum" in English, but "quantique" in French, so the word "Quantic" is a blend of the two). Quantum physics has always fascinated me, because it is the branch of science which gave rise, for example, to electronics, and also because it describes unexplained phenomena, akin to magic!
"Dream" for me evoked creation, imagination and daring.
The improbable juxtaposition of these two words exactly expressed our hopes for the studio we wanted to create: a blend of technologies on the borderline between magic and imagination... 25 years on, I don't know if we've achieved this aim, but we've certainly done our best to fulfil our dream. We've always worked on projects of our choosing, with a strong creative bias and an entirely proprietary technology. This combination of technology and creativity is probably what still best defines our studio today.
Quantic Dream continues to expand its team, in Paris and Montreal, while remaining on a human scale, enabling talented and creative people to develop games they are proud of, games which create emotion and meaning, and which touch the hearts of millions of gamers worldwide. Quantic Dream has always promoted diversity and inclusivity, and all our employees share in the success of our games, as they are all shareholders in Quantic Dream. The studio has existed for 25 years thanks to their talent and commitment, and it is they - and perhaps you too - who will shape the future of Quantic Dream.
If you dream of a new challenge in your career, if you want to work on different games and be part of a unique human adventure, if you want to join a team where you can express your talent, if you have questions and wonder if our studio can give you what you hope for, then please contact us. We may just have the project and the job of your dreams.


C.E.O & Founder
Excellence – Diversity – Inclusiveness

Excellence in the way we take care of our people and our creations.
Since its inception, Quantic Dream was built with a focus on excellence. Technological excellence, of course, with the goal of creating universes and characters that are ever more real, whether through motion capture or cutting-edge in-house software solutions. Narrative excellence, means a unique approach to interactive writing, favouring free will. And excellence in the representation of the human being, with inspirations taken from cinema and classical theatre, for the direction of the actors, who embody the soul of our experiences. But above all, excellence in the way we take care of our people.

Moreover, just like the stories in our games, there are a multitude of personalities and perspectives that make up the Quantic Dream team. Always evolving and looking to the future, our teams shine as much by the sum of their talents as by the diversity of their experiences. The video game of today and tomorrow must reflect each identity, each path, each experience brought by the people involved in these great adventures.





Diversity makes our games shine.
Today, the video game industry suffers from a perceived lack of diversity. Even if studies on a global scale are starting to show signs of evolution, the distribution of talent within studios still leans heavily towards classic male profiles. In France, according to the latest SNJV* study from 2019, women and non-binary people represent 14% and 2% of the industry workforce, respectively. At Quantic Dream, we are fortunate to have a more balanced distribution, even if we still have a long way to go to reach parity. We also make a point of promoting all profiles, without exception, to remind people that video games are a universal business, which should not belong to a single group of individuals. Highlighting the voice of minority profiles also means offering inspiration to those who dream of taking the plunge, without the question of their legitimacy being raised.

Inclusiveness, because everyone should be able to pursue their dream.
In this respect, we have committed ourselves to upholding the French video game industry guidelines for diversity by signing the S.E.L.L.** diversity charter. This charter is based on several major pillars, centred on prevention, communication, inclusiveness and equality. Each year, our studio transparently communicates on diversity data related to our workforce, and to ensure both internal and external awareness and education.

> S.E.L.L. Diversity charter

It is together, on both sides of the mirror – developers and gamers – that the future of video games is built, day after day. It is our responsibility to bring down the barriers that could influence the aspiration of the future talents of this industry. Dreaming today, to create tomorrow's reality.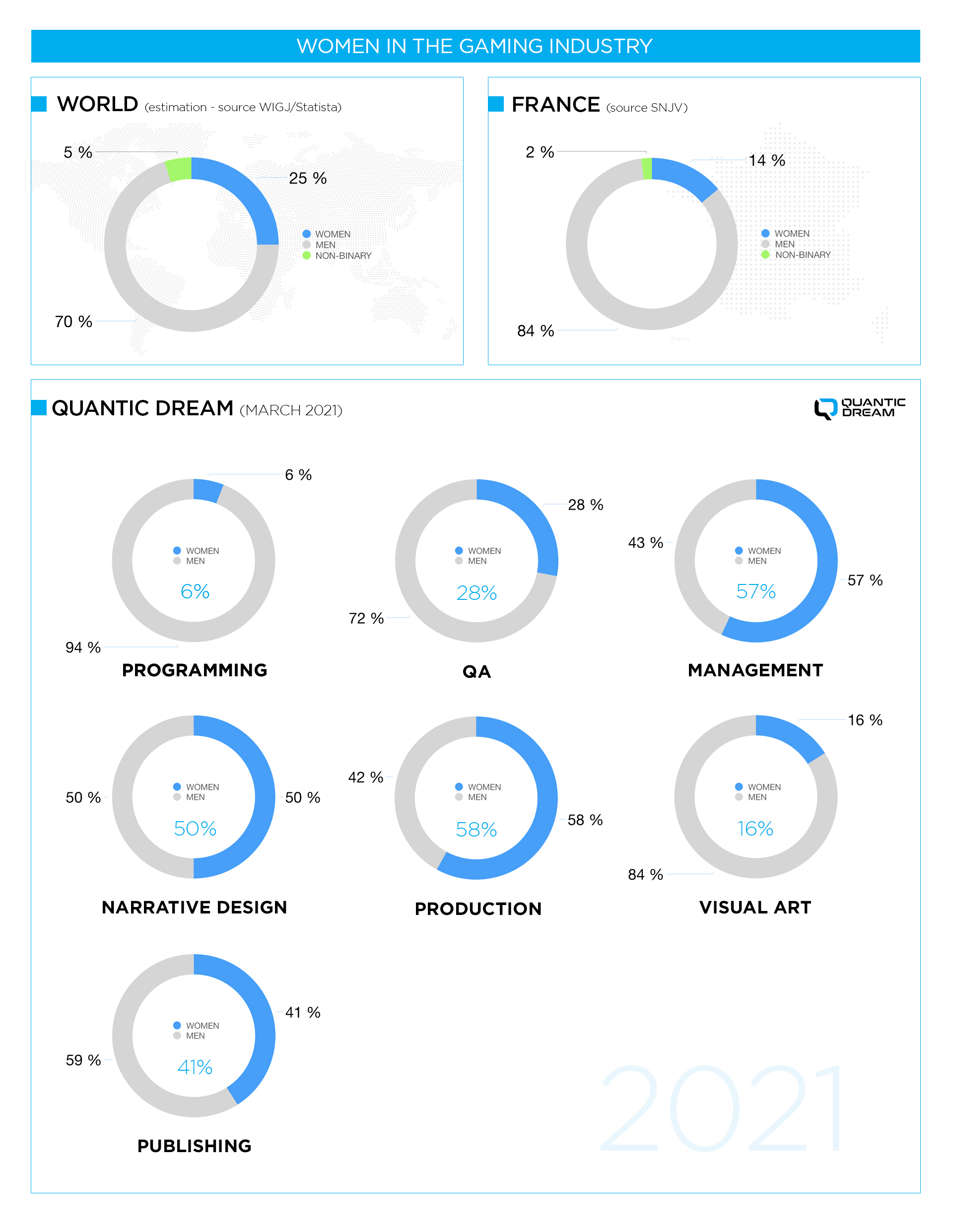 * Syndicat National du Jeu Vidéo, or National Syndication of Video Games, a French organization
* Syndicat des Éditeurs de Logiciels de Loisirs, a French organization
Life at Quantic Dream is about offering our teams a state-of-the-art working environment, without ever losing sight of their comfort and well-being, with indoor and outdoor relaxation areas that encourage exchanges and conviviality.


As part of our commitment to a listening and progress, we conduct annual, third-party surveys on the quality of life of all employees. Quantic Dream works with an external, independent and specialized partner to conduct and analyse these surveys. In 2020, the overall satisfaction rate with the employer was 93%, with 94% of employees saying they are proud to work at Quantic Dream.
We take feedback from our teams seriously; this survey is meant to be reconducted every year. It covers many subjects, such as working hours, facilities, management, discrimination, racism, harassment, work conditions, job missions, professional fulfilment, but also company projects, recognition, workload, working rhythm and work organization. It is an anonymous survey of more than 80 questions. To learn more about why we share these surveys, click here
A score of 88 out of 100

Gender equality is the aim of a global action plan launched by the French government. Comprising five indicators (pay gap; gap in individual promotion rates; percentage of employees promoted after return from maternity leave; number of women amongst the 10 most highly-paid individuals), the index allows every company to assess where it sits, and to take steps to improve the situation in terms of equality between men and women.

This index is calculated every year and must be published by all businesses employing at least 50 people.

According to the method of calculation provided by the French government, QUANTIC DREAM achieved a score of 88 out of 100 for calendar year 2020. Furthermore, QUANTIC DREAM achieved the maximum score of 35/35 for the "gap in individual promotion rates" indicator.

This index provides encouraging results and motivates us to pursue our policy of equality between men and women.

Other indicators are also pursued within the studio and published on the company's website, measuring the presence of women within each department. They help us identify certain disparities more precisely, so we can define targeted actions with a view to improving the position of women within the studio.

QUANTIC DREAM furthermore conducts an anonymous annual survey in partnership with the prestigious polling institute People Vox, so all our employees can give their views on the quality of life within the studio. Its main results are published in the section "Life at Quantic Dream".